Please notice:
On STARTMAKINGWEBSITES we try to deliver the best content for our readers. When you purchase through referral links on our site, we earn a commission. Affiliate commissions are vital to keep this site free and our business running.
Read More
Preface
In this post we will show you 10 beautiful websites that were built with Elementor to get you inspired. The websites were taken from an official Elementor blog post.
21 Minutes Coaching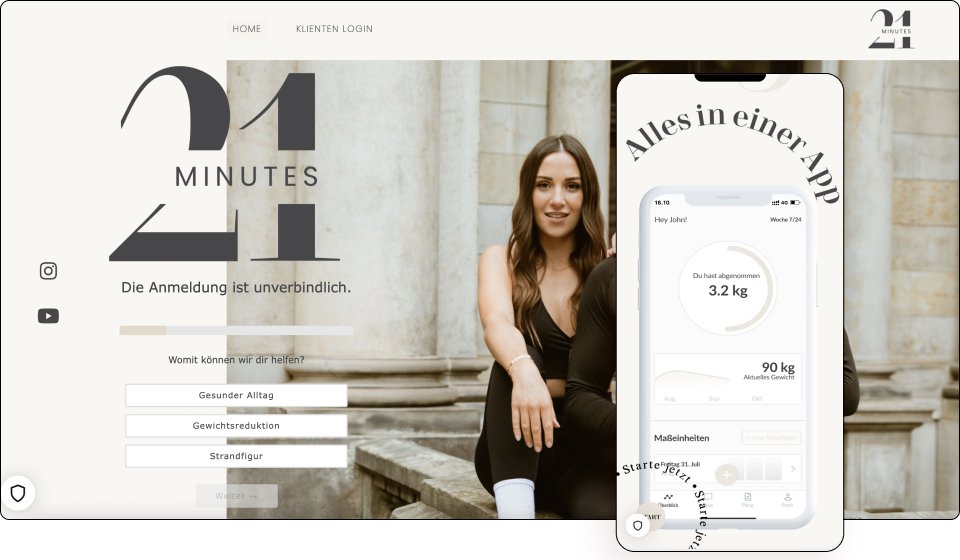 21 Minutes Coaching focuses on promoting physical health through customized exercise and meal plans, as well as promoting mental health through targeted motivational videos and weekly mini-challenges.
The German online coaching business uses a single page website format. Using a popular combination of fonts and a beautiful dark gray font, the site creates a sophisticated yet casual vibe. Text paths are also visible just below the hero on both sides to keep the viewer's attention.
A distinctive feature of the site is the form that is present in the hero himself and is fully functional. There is also a smooth and elegant use of animation, with sections flowing smoothly into each other. Scrolling effects add a nice movement to the site and emphasize its active atmosphere.
Pay special attention to images that use the same colors as the site's theme colors. It's a nice and well thought out aesthetic touch that goes well with the overall modern vibe of the store.
Packed with action from header to footer, 21 Minutes Coaching offers visitors an active atmosphere that matches its services.
Theme: Page Builder Framework
Plugins: WP Super Cache, Yoast SEO, Insert Headers and Footers
Urban Jungle Blog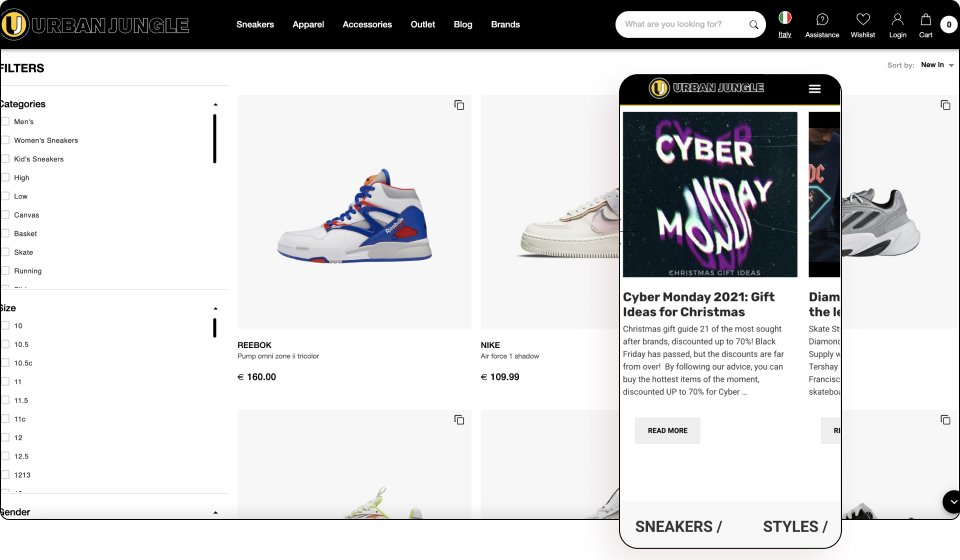 Urban Jungle is an international franchising project in partnership with the best brands, born with the goal of becoming a reference point for all consumers looking for the latest innovations and innovative and exclusive products of urban culture.
The Urban Jungle Blog features a simple and modern design as it primarily serves as a showcase for the store's products to drive sales. The site is neatly organized using a thin font and a linear theme with line separators to help separate each section.
Each article has a simple, clean and image-rich layout. In fact, images dominate posts with chunks of black text, lightly padded captions, or short intros around images. It's also useful to use the "Last Post" column on the right, which integrates seamlessly with our Sticky Column widget.
As we move to the bottom of the page, we are followed by a footer that encourages a visit to the store. This is a modern, minimalist and welcoming blog site that offers multi-page views thanks to short, compact text in each post. This makes the content easier to digest as the focus is on the graphics of the products on offer.
Urban Jungle sells limited editions, hottest merchandise and fashion accessories in collaboration with artists from major international brands. Her blog website perfectly showcases all her strengths in a simple and straightforward format, bringing out the product as much as possible.
Theme: Hello
Plugins: Dynamic Content for Elementor
ZAMMETH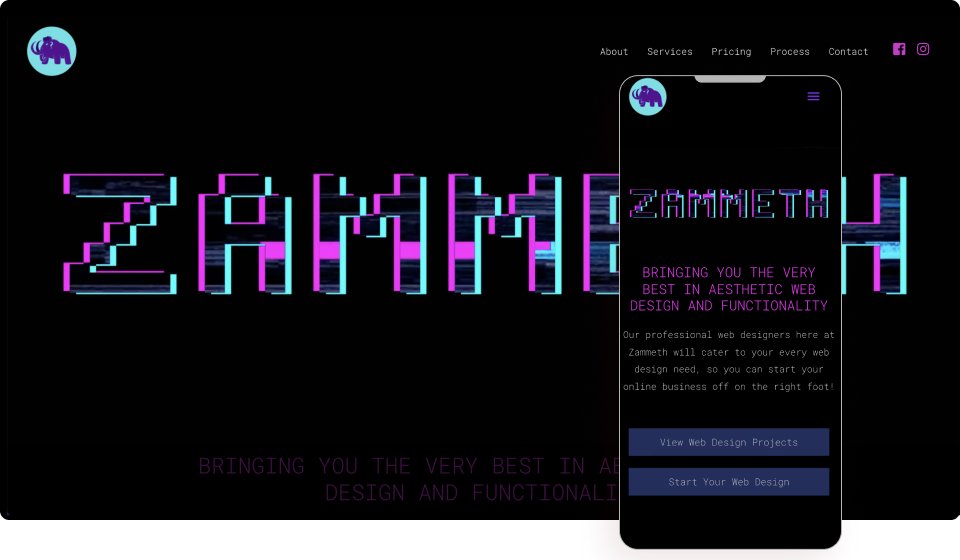 ZAMMETH was conceived thanks to the founders' shared love for website development and the desire to become an entrepreneur. Their mission is to provide the greater Illawarra region and surrounding areas of Australia with customized, high quality, attractive and practical websites with the goal of becoming a household name in local web design.
The site is designed in the style of a retro arcade of the 80s: from neon colors in the foreground to an intergalactic background reminiscent of a space invader. With a hero flickering forward at the speed of an old VHS video, thin monospace fonts, and subtle floating stars that never distract, this is the place to indulge in nostalgia.
Hovering over the page icons shows the fluid animation of the Lottie widget. In fact, the entire site is made up of a minimalist mix of ultra-thin animations, a colorful space font, all set against a vibrant black galaxy background that never takes your attention away from the content.
The Process page deserves special praise, as it cleverly uses an animated rocket that lands on the moon as the user gradually scrolls down the page. The attached copy reads "ONE SMALL STEP… FOR YOUR BUSINESS" and "ONE BIG JUMP". The text is a beautiful repetition of Neil Armstrong's famous words to highlight the company's services.
Theme: Astra
Plugins: WP Forms, Astra Widgets, Elementor Addon Elements
Do WooW
Do WooW understands that its customers want to engage and capture the public's attention: to be known and communicate better, increase sales, characterize their brand by taking their first steps in the digital world, and their image to innovate by giving their business a style that matches their online presence.
The Italian outfit uses beautiful bright colors on a black bed, giving it a strong text impact. Detailed titles create the wow effect, while animated titles bring it to life. The logo is also a motif embedded in a website, such as a hamburger menu.
The Communications and Digital Agency presents each of its offerings in a unique way with matching animation elements combined with scrolling effects. The white and yellow colors of the logo are also intelligently integrated into the website, reinforcing the company's creative yet minimalist image.
The modern serif font Montserrat beautifully emphasizes the beautiful modern vibe of the site. An integrated campaign page is a must as it is a perfect example of how motif and illustration complement each other.
Theme: Hello
Plugins: Premium Addons for Elementor
Studio Saban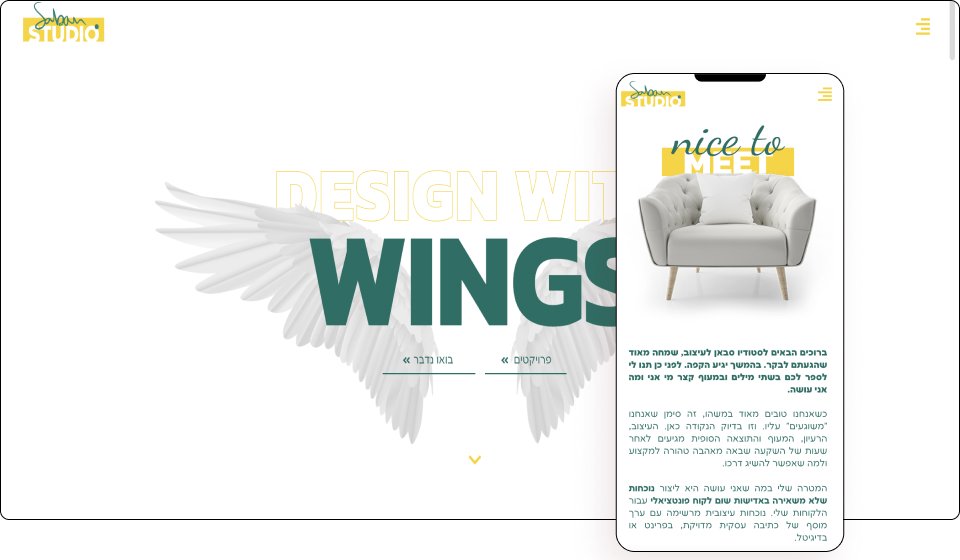 Studio Saban is an advertising studio for business clients from a wide variety of industries. Provide an end-to-end solution for targeted branding and advertising strategy, copywriting and pixel-perfect design according to the client's business needs.
The company beautifully pairs the green and yellow colors of their logo with their website design, as well as a large ribbon paired with transparent headers. The Israeli firm also uses subtle motions with a scrolling effect. The study highlights past projects and expands the list of published materials with scrolling animation.
There's also a nice personal touch with founder Noah Saban using his signature logo design in combination with the San Serif typeface. Likewise, the bottom left corner of the footer subtly uses a text track that features a personal quote that adds real character.
The popup menu cleverly uses a skew hover animation and unconventionally appears at the bottom of the page instead of at the top. The gallery is also slightly off-center, following an asymmetrical style. Using the popup as a contact page is also a refreshing touch as it saves you constant clicks and loading time.
Studio Saban offers a unique combination of logo-inspired styles that emphasize creativity and freshness.
Theme: Hello
Plugins: Google Analytics for WordPress by MonsterInsights, JetElements, JetBlog
Hatch Law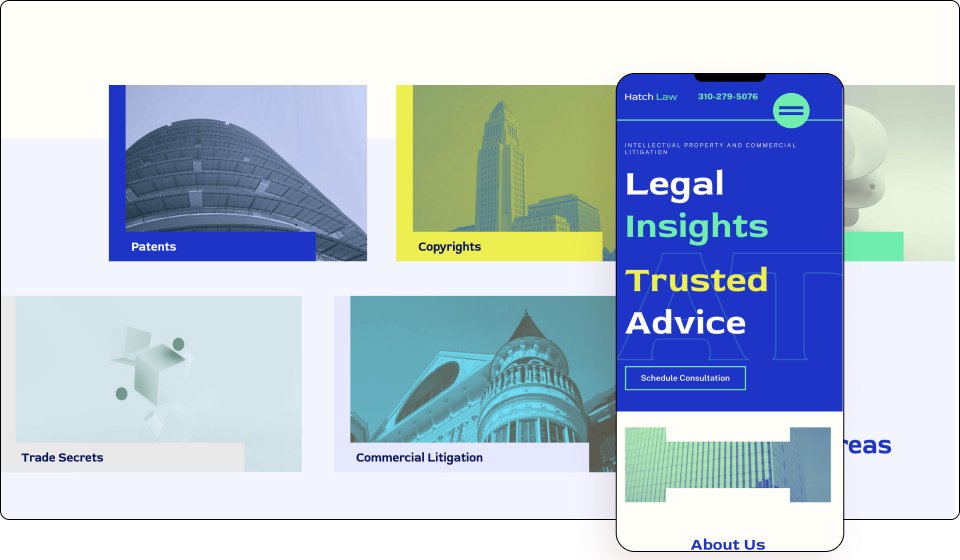 Hatch Law PC is an intellectual property law firm based in Los Angeles specializing in patents, copyrights, trademarks, trade secrets and trade disputes.
However, the website does not follow the traditional style of a law firm website, but rather resembles the companies it represents. Designed under the guise of a modern and trendy web designer aesthetic, the company definitely stands out from the competition.
The modern use of large type is clearly visible, with a prominent "H" shape in the main section, along with the word "HATCH" written face down as blank text with a thin green outline. On the other hand, blend modes, gradient colors, and light fonts bring text to the front. In fact, the white, green, blue, and yellow colors of the theme work well on the site.
The use of image masks to represent the 'H' for hatching rather subtle is a brilliant touch, as is the popup menu, which is minimalist, simple, and well organized. The interesting thing about contrast is that the light colors of the type are not on a black canvas, but on a neon white canvas.
A smart modern take on a centuries old niche that will grab the attention of any potential client. Hatch Law signs, seals and provides a unique website for the legal industry.
Theme: Astra Pro
Plugins: Yoast SEO, Ultimate Addon, Wordfence, Make Column Clickable

Go to Website
Dani Flowers Bakery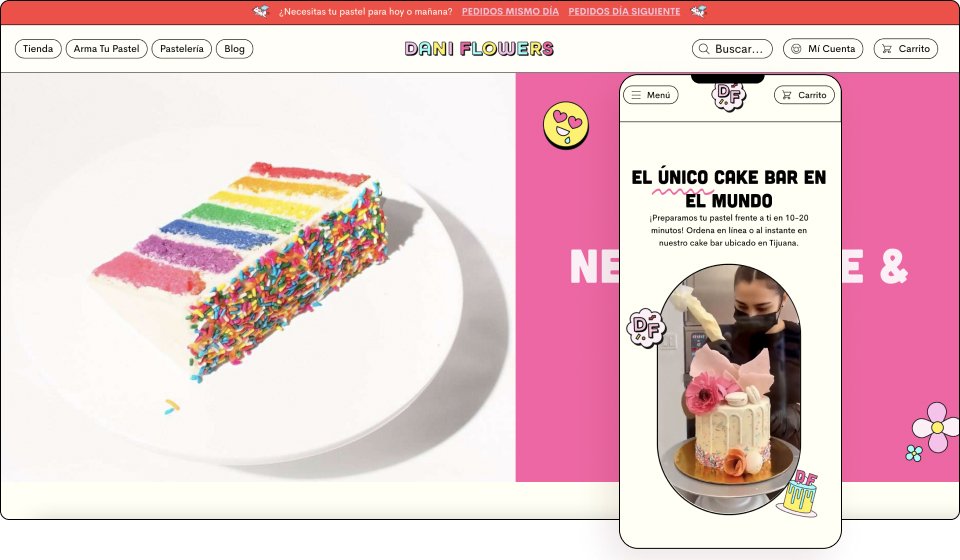 Dani Flowers offers its customers the opportunity to personalize the cake by choosing one of three different styles and a variety of topping flavors. They can then choose the color of the sugar and syrup to decorate the cake. Finally, they can decorate it with fittings, candles, and assorted cake decorations.
The site uses a vibrant color scheme that is both vibrant and festive. We can see how the logo inspired the design of the website thanks to the matching pastel theme. This creates a fun and upbeat atmosphere aimed at a younger audience.
The use of emoticons is also a good nod to the youthful age group that the company caters to. The text cleverly creates an Instagram-style image. While the video uses mask shapes almost like social media GIFs. Hovering over menu items and calls to action creates a slanted pink effect. Similarly, pink is used for pricing, which generates a more positive response from visitors.
A Mexican company uses the Elementor WooCommerce Builder for their delicious candies. It also uses nice clean footer typography that gives it a crisp dark contrast with the pink font.
It's a fun, down-to-earth site that knows exactly what it's all about and never takes itself too seriously. Dani Flowers bakery will make visitors lick their lips every time they visit.
Theme: Hello
Plugins: Woocommerce, Yoast Seo, Order Delivery Date Pro for WooCommerce, Simple Custom CSS and JS, SiteGround Optimizer, WooCommerce Country Restrictions – Advanced Pro, WooCommerce Product Add-Ons Ultimate, WooCommerce Stripe Gateway, WP Mail SMTP.
BAAR Law Firm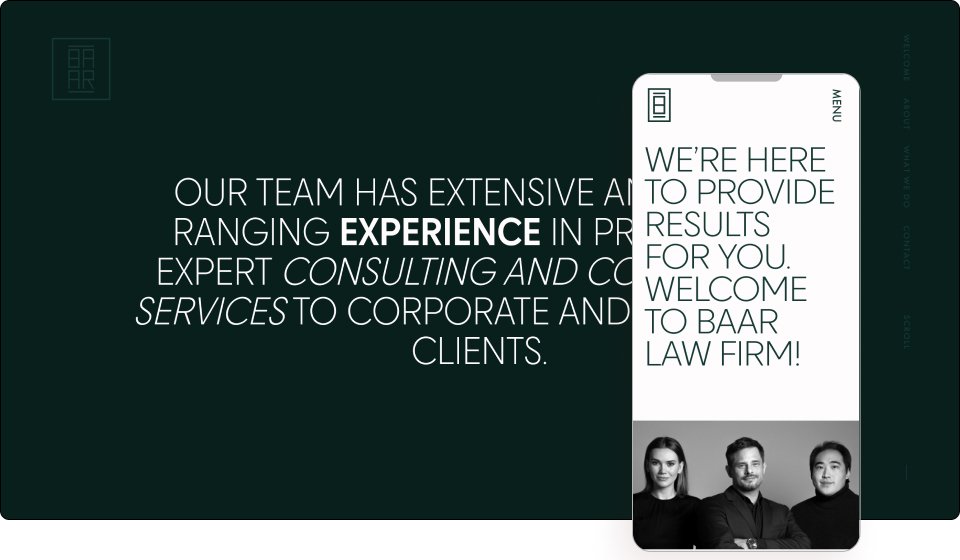 Baar Law Firm specializes and has extensive experience in providing qualified immigration and international business services in various fields. They provide expert advice and advisory services to corporate and private clients.
A minimalistic website, very formal and in line with the legal services of an Austrian company. By using only dark green and off-white colors, the website exudes authority and credibility. Sophisticated sans-serif fonts give the overall look a professional look.
Clearly, the company has invested wisely in photography, which uses beautiful black and white tones that represent power. They also integrate their logo into the loading screen, and the subtle scrolling effects keep the company's professional vibe while giving it just enough glitz.
All in all, this is a very clean and elegant site, done with corporate quality. Suffice it to say that converting visitors into leads is not ignored here.
Theme: Hello
Plugins: The Plus Addons for Elementor
#STEREOTIPISONOVIOLENZA
Limo Comunicazione has decided to implement the #stereotipisonoviolenza project to increase knowledge and awareness of the violence behind stereotypes. The project is aimed at all generations, inviting them to think about what domestic violence is and, in particular, to address stereotypes and prejudices against female victims.
The Italian site brings clarity and attention to a topic often lost in the mass of information, effectively using combinations of background videos, overlapping images and custom fonts to bring the topic to the fore.
Bold red in particular is a noteworthy choice given the delicate subject matter, as red usually signifies one or a combination of danger, sacrifice, blood, anger, warmth, and beauty. For a campaign to raise awareness about violence against women, this is a good choice of color that evokes emotions, grabs people's attention and motivates them to take action.
Scrolling effects are used throughout the site to highlight important dates. Custom illustrations help convey the message of the campaign accurately, along with relevant text to continue the story. We also see black, red, and large fonts on the site, perfect for the theme.
There is also a unique slider that acts as a pinpoint target. The circle appears to follow the dot. The red scroll bar is also used on the side. The site's large font, minimalist design, and mobile-friendly design make it possible to present the theme in an accessible and easily digestible format.
The website cover design fits the theme very well and contributes a lot to the atmosphere as it draws much needed attention to this all-important topic.
Theme: Hello
Plugins: Catch Scroll Progress Bar, Preloader Plus
Passionate Digital Agency
Passionate is a full-service digital agency specializing in providing design, development, marketing, and hosting solutions for startups, SMBs, and physical enterprises. Enthusiasts pride themselves on their meticulous attention to detail, prompt delivery, and honest advice throughout the process.
The British creative agency is a stylish modern website, the design of which skillfully combines modern and unusual elements. Using a nice and special serif font in combination with many other fonts really makes the headings stand out and the text breaks up nicely.
It hits a circular text path with a spinning arrow that almost looks like a compass on the right side. The colors of the website come from images that are set against a bright white liquid background. The hover animation also adds color to the font. In fact, for example, moving the mouse over a logo creates a playful animation.
A nice touch is the use of GIFs in employee photos, which you can find on the contact page. The form is also quite short and simple. They also sell designs on their website using our WooCommerce Builder which sets them apart from the competition and gives you an idea of ​​what they have to offer.
Passionate minimalist design prevails, finishing this year's exhibit in first place. This is a very high level site that deserves a place among the best in 2021.
Theme: Astra
Plugins: JetBlocks, JetEngine, JetMenu, JetSmartFilters, JetWooBuilder, WooCommerce, Preloader Plus
Conclusion
With plenty of unique ideas to take away, from creative text paths, to beautiful gradient, neon and pastel text, to bright black and white backgrounds, to intricate use of scrolling effects to bring messages to life, these 10 websites can inspire everyone. We hope you liked this post.
Get Elementor-Pro to build such kind of websites yourself in no time.