Please notice:
On STARTMAKINGWEBSITES we try to deliver the best content for our readers. When you purchase through referral links on our site, we earn a commission. Affiliate commissions are vital to keep this site free and our business running.
Read More
Preface
You are not sure how to install the Templates provided for the Astra Theme (Free and Premium) in WordPress? In this Quick Tip we will show you all the steps on how to install these templates from the Starter Templates library.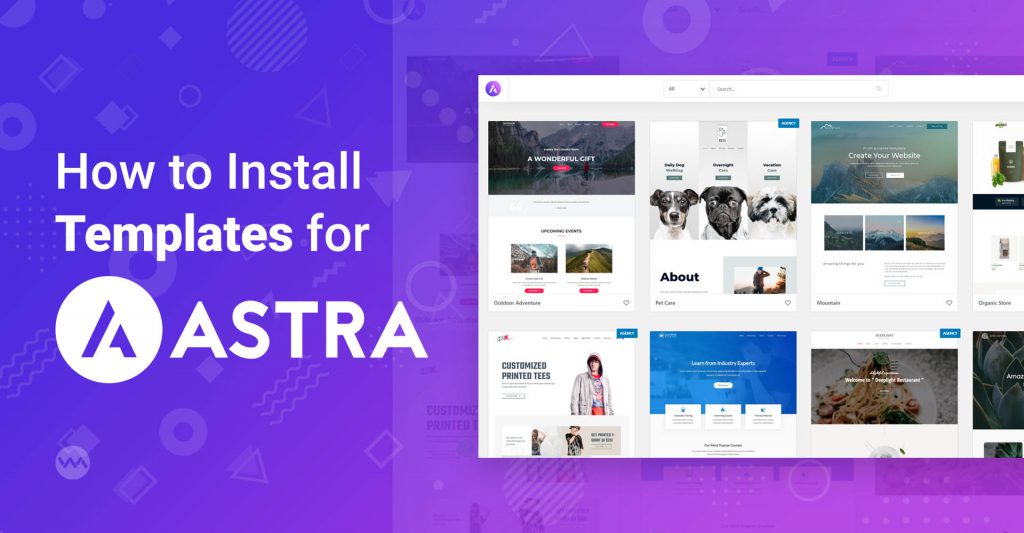 Step 1 – Install the Starter Templates WordPress Plugin
Let's fire up your WordPress website and navigate to the WordPress Dashboard. From within your WordPress Dashboard, go to "Plugins" and "Add New". Then search for then enter the keywords "starter template" on the top right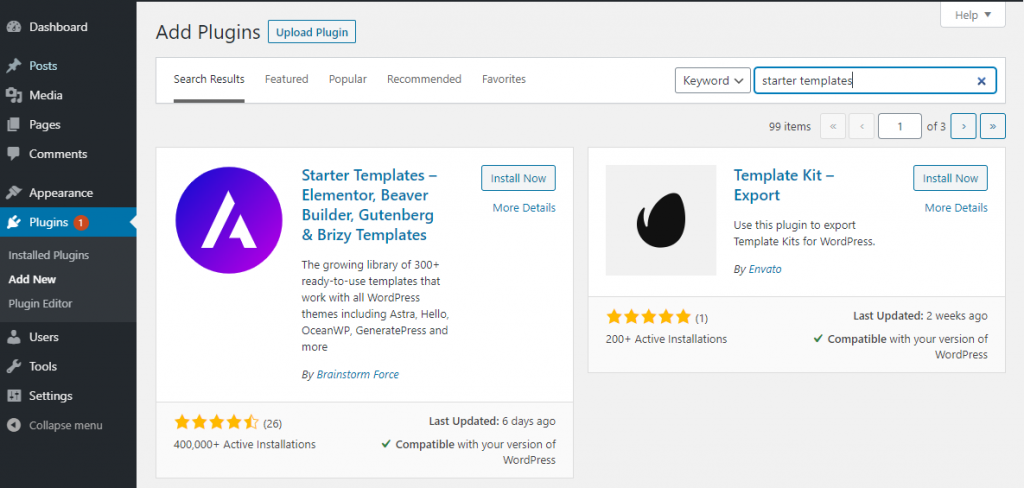 Install and activate "Starter Templates – Elementor, Beaver Builder, Gutenberg & Brizy Templates".
Hint: You don't know how to install and activate a WordPress Plugin? Here is a tutorial that shows you how to Install WordPress Plugins.
Step 2 – Choosing an Astra Starter Template
After you have installed and activated the Starter Template WordPress Plugin, go to Appearance > Starter Templates in order to fire up this Plugin.
Choose a Page Builder
Choose the Page Builder of your choice. We will be using Elementor.
Hint: You are new to Elementor? We have a Guide on how to get started with Elementor.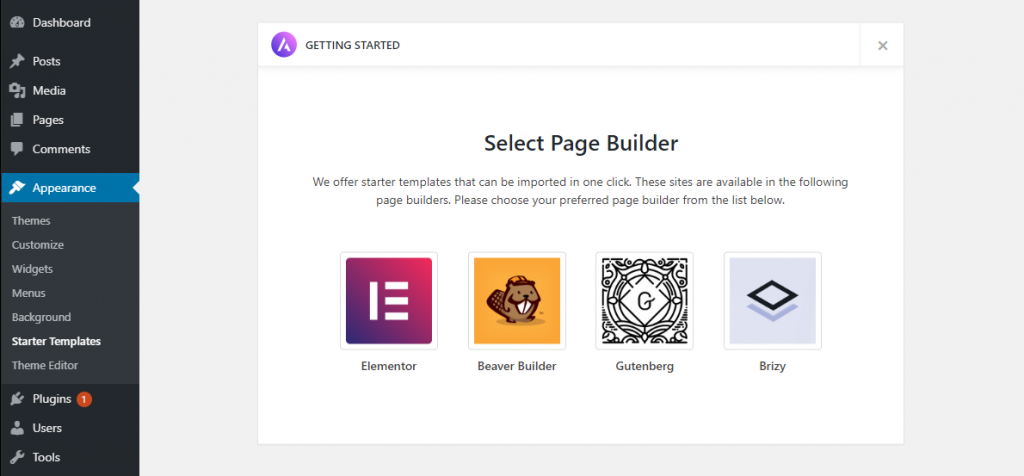 Choose the Starter Template you want
After you have chosen the Page Builder you should see a Gallery of available Templates.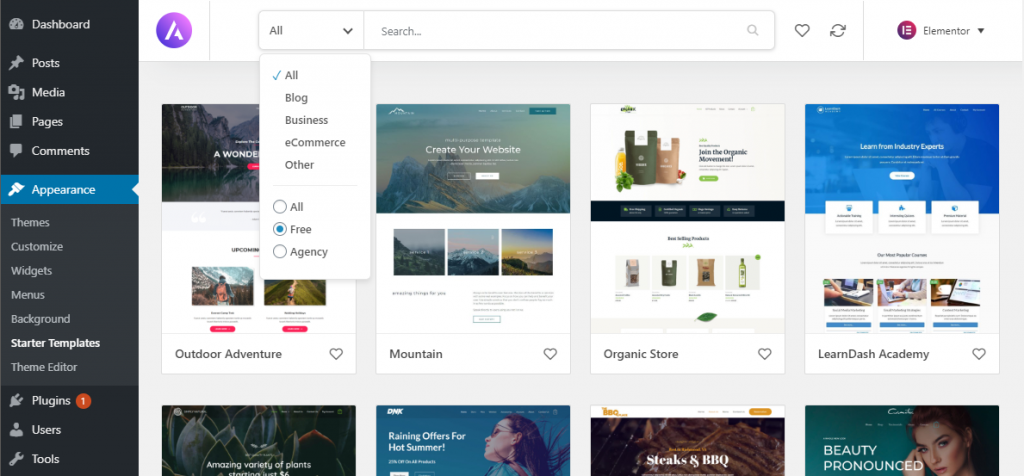 There are several more things you can do here. For example you can Filter for certain Categories like Blog, Business or eCommerce. Moreover you can choose if you want to see All Templates or the ones tagged with Free or tagged with Agency. In other words the Starter Templates library has a number of templates, some are FREE (without any tag) while some are marked with AGENCY tag.
The Agency Templates are Premium Starter Templates. You need Astra Pro to use them and they usually also use premium external plugins. On the other hand free Templates are available for free. These templates are built with free resources like – free versions of page builders (Elementor, Beaver Builder, Brizy) and free external plugins.
Import and Install the Template
For this example we use the free Template "Outdoor Adventure". After you choose a Template you see a little overview of the Template and all the pages that are available for this template. You can see a live demo of your Template with the help of a preview link that is located under the main image.
Furthermore you can decide to only import the Home template to your WordPress website or the complete site. Complete site describes the option to install all the page templates available for this Template.
Importsettings for the Template
For our example we will be importing the complete site. Before the import begins you have to define in more detail what you want to have imported. Usually you can decide on the following things:
Delete Previously Imported Site: Will delete the Astra Templates that were imported before.
Install and Activate Astra Theme: When you did not yet Install the Astra Theme (this Theme is necessary to use the Astra Templates) then this option can install the Astra Theme automatically for you.
Import Customizer Settings: Add the customizer settings of your Template to the Astra Theme in case you check this box.
Import Widgets: Also import the widgets to your WordPress website
Install Required Plugins: Import the required WordPress Plugins to your website. This also includes the Page Builder.
Import Content: Import the demo Content (usually images and dummy text) to your WordPress website.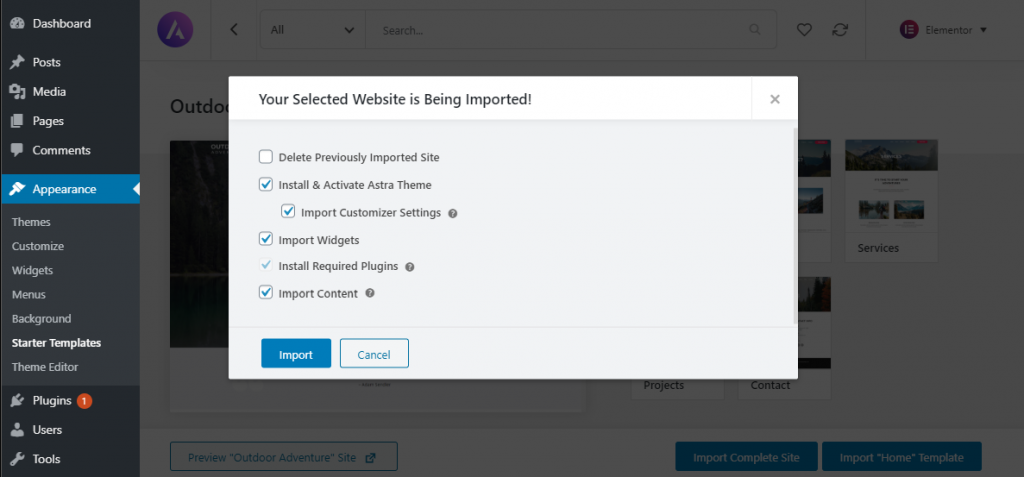 Import and Install the Template
When you hit the Import button the magic happens and everything will be imported, installed and activated for you in the background. After this process (this might take some time) is over, you should see the following confirmation window.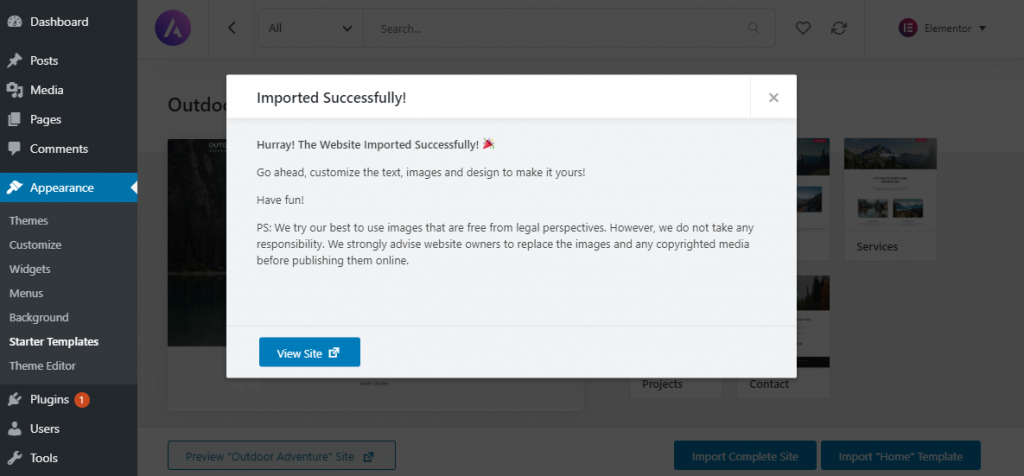 The importer installed and activated plugins and created several pages for you which you now can edit and adapt to your needs.
Conclusion
We hope this Quick Tip helps you to install the Astra Template of your choice and helps you to start making your awesome future Website. We wish you a great day 🙂